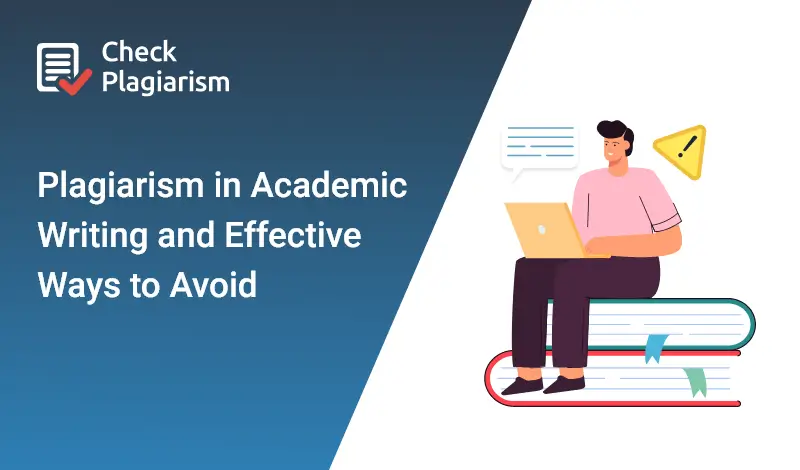 To plagiarize means to borrow another person's ideas or exact words without acknowledging who the real author is.
It's equally common in academic papers and other written content. But the repercussions for the former are particularly severe, even if plagiarism wasn't intentional. So students are right to dread it.
Don't worry, though. As long as you know everything there's to know about plagiarism and ways to avoid it, you should be fine. Here are the basics.
Most Common Types of Plagiarism
Although plagiarism is an academic offense anyways, different forms of it aren't created equal. College academic integrity committees decide how serious the repercussions should be for a student caught on plagiarism on a case-by-case basis. Here are a few common types of plagiarism:
Complete plagiarism. Complete plagiarism is the worst and most obvious way to plagiarize. It means that the student has submitted someone else's paper in its entirety as if it were their own.
Self-plagiarism. Some oblivious students believe that if they're submitting their own work (for example, for a different course), it's okay. But it's not—self-plagiarism is still plagiarism.
Patchwork plagiarism. This one's the most common form of plagiarism among both students and professional online content writers. It implies that the work includes pieces of original writing mixed with plagiarized passages or is plagiarized from several sources.
Accidental plagiarism. Finally, accidental plagiarism is the most unfortunate form of plagiarism. It typically happens when a student fails to cite their sources properly and doesn't use good plagiarism-checking software before submitting the paper.
Why is Plagiarism Such a Big Deal?
The first reason why colleges are so strict about plagiarism is that it's completely unethical. Another writer has put their time and effort into writing a text from scratch. It's only natural that the least they can expect is to be credited for their work. When you take someone else's words and ideas without acknowledging the author, you're basically stealing. So it's no surprise that the theft of content is punishable; any other theft is as well.
Also, plagiarism undermines the very idea of learning. Academic experts or an academic writing company, and other online essay writing services admit that the fear of plagiarism is one of the reasons why students are looking for professional writing assistance.
But you need to realize that when a professor gives an assignment, say, a book review, they want to check if you have read the book, understood it properly, and are able to offer constructive criticism of the ideas from it. And most students probably have. So when you plagiarize, it's as if you devalue all the hard work that your peers have put into their papers. Academic plagiarism is dishonest and unfair.
Take Notes While Reading Your Sources
Luckily, avoiding accidental plagiarism isn't that difficult. The first thing you need to do is take notes during your research. When you're reading sources for background information or to reference in the paper, make sure your note-taking is on point.
Don't just create bookmarks. Write down everything that's important (statistics, dates, relevant quotes, and so on) and include page and paragraph numbers. This way, you'll be able to format in-text citations quickly and correctly when writing the essay.
By the way, if you have yet to try note-taking apps, please do. They make the note-taking process much easier. Here are a couple of great options (in no particular order):
Evernote. Based on the set of functions it offers, rating, and customer reviews, Evernote is the note-taking app to choose. It supports multiple file formats and has an in-app mobile scanner, which is a pleasant bonus.
Editpad. Editpad is a simpler alternative to Wordpad. It's free, so Editpad is a smart choice for someone on a student budget who can't afford to buy an app as pricey as Evernote. The only real downside is that its interface can be confusing.
Flexcil. Flexcil isn't as popular as Evernote or OneNote, but it's a good app nonetheless. It has all the standard features and is convenient if you work with .pdf files a lot. And it's quite cheap.
Learn How to Paraphrase and Cite Correctly
Accidental plagiarism typically occurs because the student doesn't know how to cite their sources properly or forgets to at all. So the best way to avoid it is to make sure that every book, article, or website you've used while writing the paper is not only included in your bibliography but also followed by correctly formatted in-text citations.
They go at the end of the sentences that include information you've taken from one of your sources.
First, check the instructions every time to know which citation style you're supposed to use. Those vary depending on where you study, what your professor's preferences are, and what course the paper is for. For example, English 101 essays typically require you to use MLA, while nursing papers call for APA. Harvard referencing is the most common one in the UK but not so much in the USA.
Also, if you have yet to feel like a true citing expert, it's a good idea to use citation building services, such as Citation Machine or Cite This For Me. Both are free (with a paid plan option) and help users generate personalized citations for their sources semi-automatically. Still, don't forget to double-check your references. No matter which service you end up using, it's helpful but not flawless.
Use Reliable Plagiarism Checkers
Finally, no matter how careful you are about paraphrasing and citing, make sure to use quality plagiarism-checking software once you're done. The thing is, even if you take notes meticulously and use citation generator, you can't be sure that you haven't inadvertently copied someone else's phrase or two without noticing it. You may think that it's your own, but it can well turn out to be something you've read before and memorized.
So once your paper is written, run it through a plagiarism checker or two. Scribbr is definitely the top one. It's a company that partners with Turnitin, the plagiarism checker that most American colleges and universities use. But it's not the cheapest choice out there.
Tons of other companies, such as Prepostseo.com, check-plagiarism.com, and Editapad.org, are more affordable (or even free) and quite reliable. Or you can pay for Copyscape. And it offers custom suggestions that'll help you improve your writing.
In Sum
Overall, plagiarism in academic writing is definitely something to pay attention to and avoid by all means. It can have major consequences that range from grade reduction to expulsion, depending on how serious your offense is and whether or not you're a repeat offender.
Luckily, it's not that difficult to make sure that your paper is 100% plagiarism-free. Take notes while researching, work on your citation skills, and use a sensitive plagiarism checker of your choice. And you're all set.